Halo Angels <3
Here is the story behind us and our brand:
Angel Love was founded over a year ago by two Mothers with a little inspiration from their young daughters. Today, it is run by its executive team - Principal Partners: Alison Dalglish-Pottow (Founder & CEO) and Jennifer Bassett - with a fiercely committed conviction of spreading kindness (mobilizing the world's largest angel squad powered movement) and offering their angel community a single source solution for kind living with a high-yielding ROK - return on kindness.
The idea originated from a sweet place (literally!) while eating macaroons and cupcakes at trendy artisanal pastry destination Bobbette & Belle in Leslieville, Toronto – a nice Mother and Daughter thing to do. "We enjoyed our outings there because it made us feel good. Ok, the sugar rush helped too! Why did we want to feel good? It can be hard to wake up to so much bad stuff happening to people everywhere around the globe. It got us thinking about how we could change that. The problem was that cruelty seemed to get more press and energy these days than kindness. Why not put the focus on kindness instead and make that a viral lifestyle choice?" (Alison Dalglish-Pottow)
In a world dominated by negative news and widespread suffering, we wanted to find a simple and empowering solution to crush cruelty with kindness. If you haven't heard yet, kindness IS the new cool.
"Our response to this violence must be to come closer together, to help each other, to love more and to love more kindly and generously than we did before"

Ariana Grande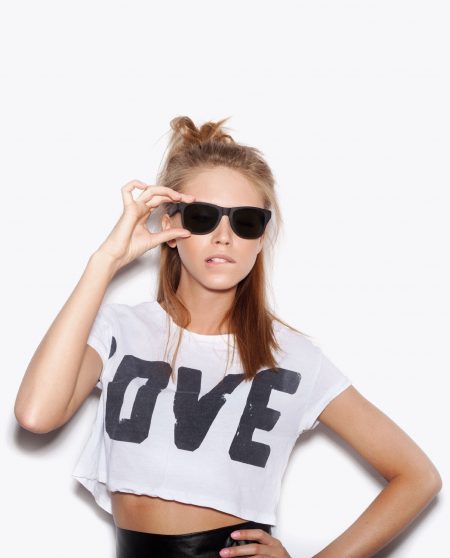 Angel Love was created as a unique lifestyle brand to sell, support and share kindness in three ways:
We design, collaborate on and promote products & apparel to sell online (The Shop) that reinforce kind living –

products made with love for the angelically hip

We give 10% of gross profit to 6 leading anti-sex-trafficking charities –

when you support our products, we support charities that support kindness

We offer a free to join (subscribe via our homepage) movement and network that inspires acts of kindness through positive sharing to create sustainable change –

empowering kindness instead of cruelty, powered by angels
be an angel: life is kind when we are kind together
#withkindness